Frayed Knot Theatre Company

Our November 2018 production - ACCRINGTON PALS by Peter Whelan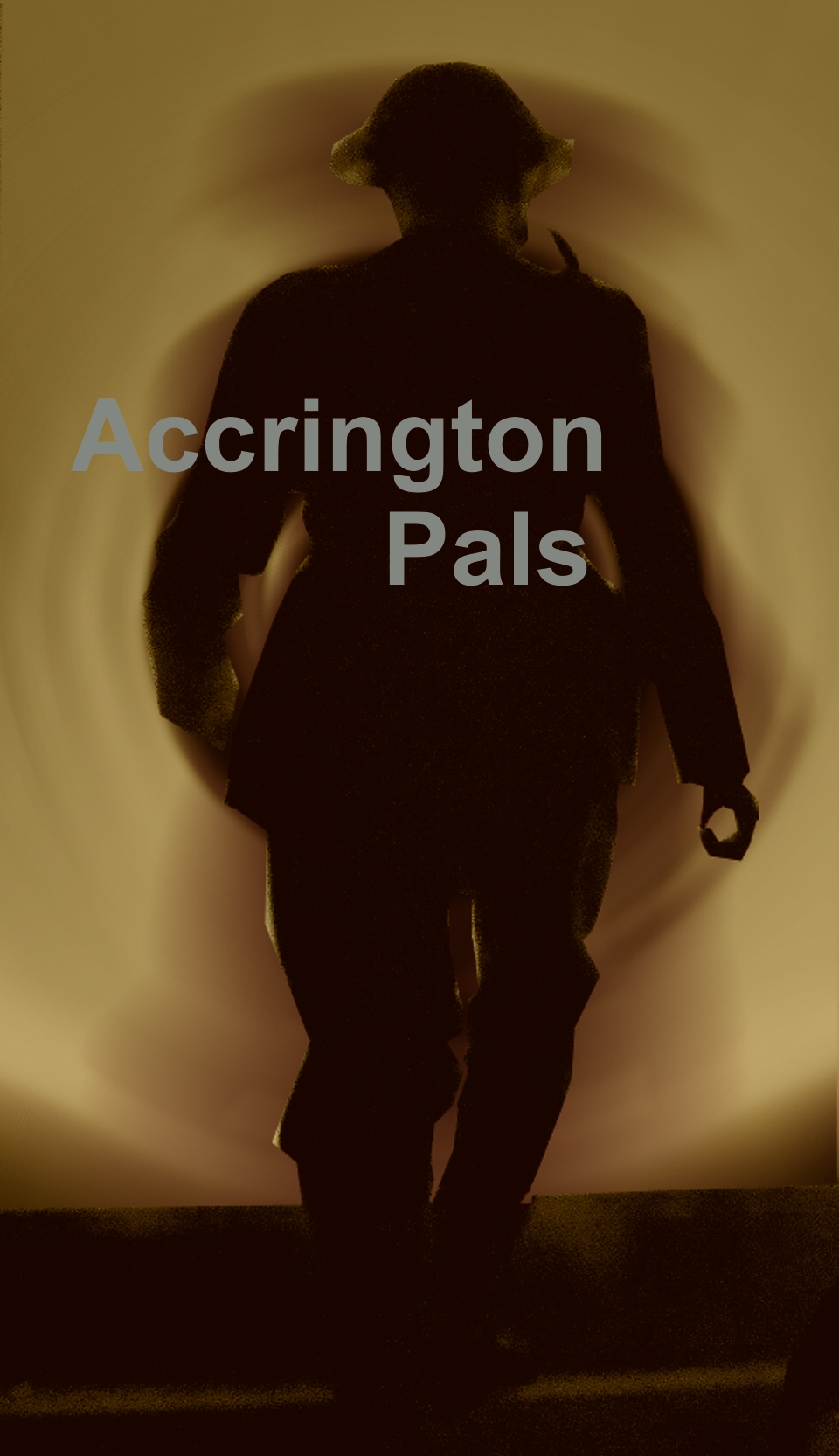 SHOW WEEK 11th to 17th November 2018 at the Court Theatre, Tring.

Rehearsals will be twice a week (days to be determined) commencing first week of September.

A classic play about the Great War. Premiered by the RSC, is set in Accrington during 1914-16. The "Pals" are the men from the local volunteer battalion who march high-spiritedly off to the Great War with their experiences in the trenches contrasted with those of the women left behind. At times funny, at times sad, it paints a moving and powerful picture of the changes in civilian life during wartime.

CHARACTERS:

MAY (F) 30s-40s Strong willed and independent. Speaks her mind in a considered but not always expected way. Green grocer stallholder, inherited from her Dad. Landlady to Tom.

TOM (M) 20s Socialist come communist. Lithographic artist who eschewed art for the army. Tom works on May's stall, as he did when May's dad owned it. Tom is soon to depart with the Pals.

EVA (F) 20s Small town girl who comes to see the world entire. Ralph is her boyfriend. Can hold a tune. Replaces Tom on May's stall.

RALPH (M) 20s Loveable tease of a man/boy. Eva is his girlfriend. Ralph is soon to depart with the Pals.

ANNIE (F) 30s-40s Fierce some firebrand. Wife to Arthur and mother to Reggie.

ARTHUR (M) 40s God fearing pigeon fancier. Husband to Annie and father to Reggie.

REGGIE (M) 16-19 Beautiful confusion of a teenager. Always getting into trouble with his mother Annie.

SARAH (F) 30s Neighbourhood gossip, life and soul of a party.

BERTHA (F) 20s quite shy. Seems to see the world, at first, quite simply.

CSM RIVERS (M) 30- 40s Commanding officer of the Pals.

PERFORMANCES: Wednesday 14th - Saturday 17th November 2018
FK Calendar at The Court
Year
Season
Booked Dates
Show
2018
Spring
(15th) 18th - 21st Apr
Brighton Beach Memoirs
Autumn
(11th) 14th - 17th Nov
The Accrington Pals
2019
Spring
(31st) 3rd - 6th Apr
TBA
Autumn
(17th) 20th - 23rd Nov
TBA
Site Index (Click to link)

A FEW OF OUR PREVIOUS SHOWS' POSTERS ARE SHOWN BELOW